 
Emergency Tent 2,5x2,5
Pneumatic tents for emergencies, due to their design and comfortable height, are ideal for use as doctors' offices, offices and bedrooms, among others. They are catalogued as antiseismic structures. They are installed by one person, quickly, easily and simply, without any type of assembly. They can be transported in helicopters or airplanes, since they do not have metal structures, so they are also easy to store. They do not need a permanent electrical source for their operation. In places where there is no electrical network, a hand pump, battery or power plant can be used for initial inflation, as required.
Security Policy:
Our products are manufactured according to international standards ASTM F2374-10, F2461-09, F1193-06
Shipping policy:
Please contact our company's logistics to agree on shipping times and costs
Warranty policy:
Products 1 year and accessories 3 months. Covers defects in material or workmanship of the manufact
Domestic waterproof backpack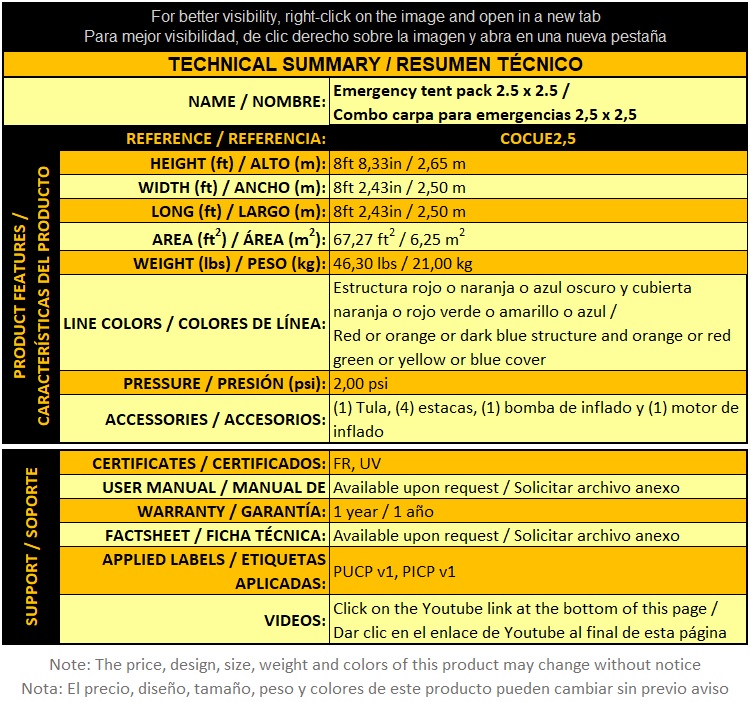 No customer reviews for the moment.